THE DIAMOND COLLECTIVE 
Where Black Entrepreneurs Illuminate Their Brilliance
Here... You're Not Just Building a Business; You're Crafting a Legacy. This is your go-to community for leveling up in business and life. Whether you're a startup business, an industry icon, or somewhere in between, this is where you get the Clarity, Confidence, Clients, and Coins to pursue your first 7-figures. Ready to shine? You're in the right place.
JOIN THE COLLECTIVE
Limited-time Bonuses Will Disappear In:
Get Ready to Shine Bright Like a Diamond!
The Diamond Collective is the sanctuary for black entrepreneurs committed to shattering stereotypes and redefining the narrative of black owned businesses. Here, we're not just building businesses; we're fueling economic empowerment and creating legacies. Whether you're closing in on six figures or eyeing seven, you'll find the Clarity and the Confidence to get you in front of the right Clients that will double or triple your Coins. We have everything you need for transformative growth. Experience world-class coaching, cutting-edge masterclasses, and a community that not only supports, but also celebrates you. Come, be part of the collective that's changing the game for black entrepreneurs.
Ready to defy limits and define success?
I'm Ready to Shine!
"We had a month with $239K in sales."
I came to Dr. LaNée with the goal of achieving a 6 figure month in my business. I was clear on my vision but my brand wasn't clear, so I wasn't making the sales and attracting the attention that I knew I was capable of. Dr. LaNée helped me to find a name that fit my brand as well as develop a BOMB brand. Once we were done I was able to relaunch my business and not just achieve the 6-figure month, but hit multiple 6 figures in a month, doubling my goal with $239K in sales.
- C. MUHAMMAD, The Wealth Doula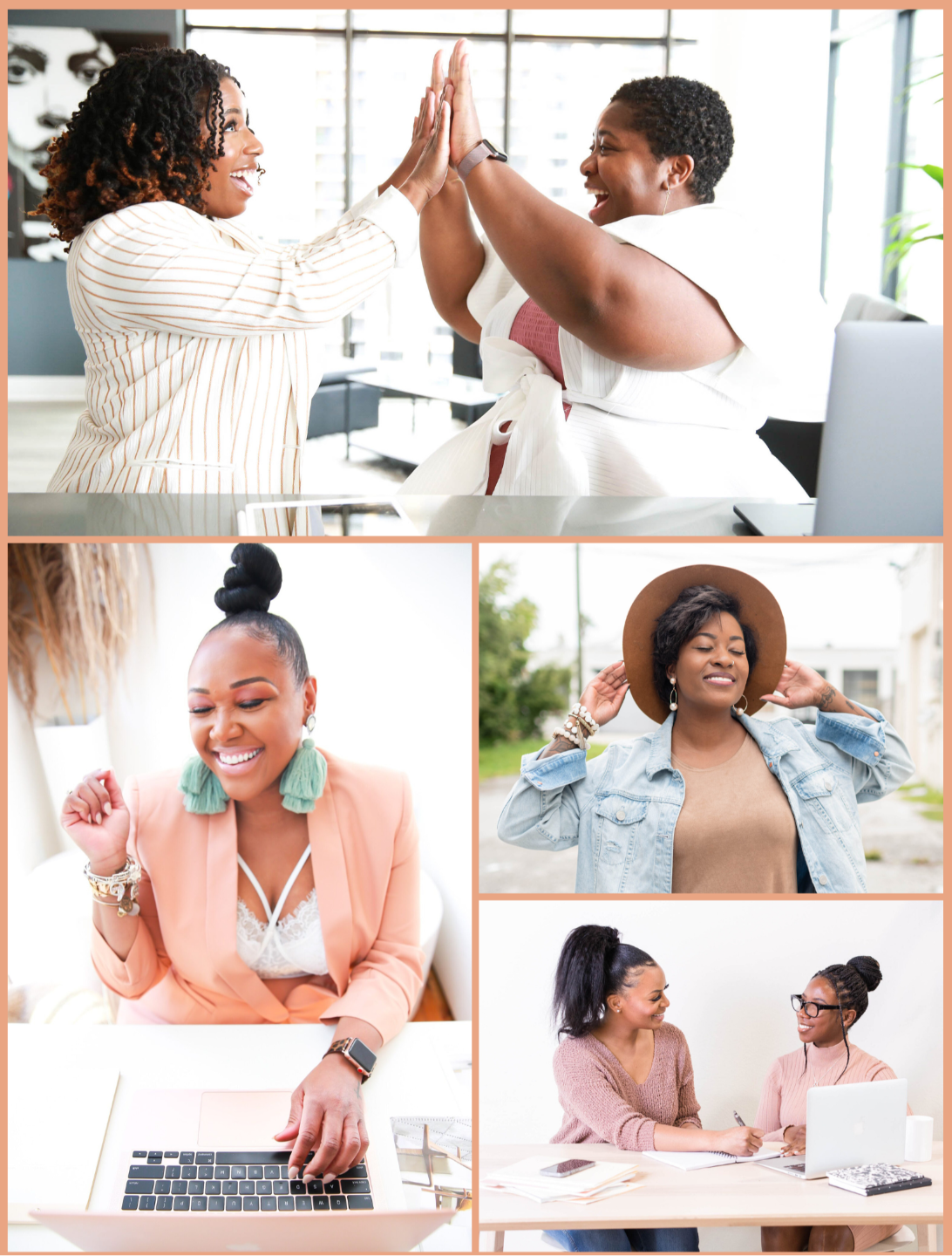 IT'S YOUR TIME TO SHINE
Not just in wealth...But in purpose, impact, freedom, and fulfillment.
Shining is about fulfilling your true potential in every aspect of life—business, time, influence, peace, and joy.
Picture a life where your goals are more than just hopes and dreams—they're your reality.
Where you're not only reaching your milestones but also empowering those around you.
Where your unique light isn't just visible, but impossible to ignore.
Imagine standing out in your field, lighting up your community, and setting a new standard of excellence.
Have you ever dreamed of living your life on your own terms—having the freedom to manage your time, elevate your influence, and relish in moments of pure joy?
If this feels like the path you're destined for... Welcome to The Diamond Collective—where you won't just meet your goals; you'll exceed them.
Here, we don't just dream; we illuminate the path for actionable, transformational success. It's not just about building wealth; it's about being a lighthouse of brilliance in a world that needs your light and what you offer.
Join The Collective
Transforming Ambition into Economic Power,
One Black Business at a Time.
Although the fastest-growing demographic of entrepreneurs in the United States is black women. WE HAVE WORK TO DO! According to a 2023 report by JPMorgan Chase, the number of black women-owned businesses grew by 58% between 2019 and 2021, compared to 23% growth for all businesses. However, we are not making as much money or hiring as fast as the rest of the business community. There IS an opportunity for us to make more money and provide jobs to our community.
Members of the The Diamond Collective are: 
- Visionary entrepreneurs eager to elevate not just their profits, but their impact.
- Outstanding individuals committed to fortifying their circle of influence with equally driven peers.
- Resilient leaders focused on constructing a legacy of wealth, wisdom, and empowerment for future generations.
- Fully invested in both their individual brilliance and collective economic upliftment.
This is the sanctuary where your light is meant to shine. If you haven't achieved your version of entrepreneurial brilliance—yet—but desire a proven pathway to get there, Welcome to The Diamond Collective.
Join The Collective
What You Unlock in The Diamond Collective:
A Brilliant Business Shine So You Standout in Your Industry!
Gain the strategic tools, a vibrant community, and expert guidance to turn your vision into tangible success.
Elevate to Brilliance: Your Comprehensive Roadmap
A rich tapestry of

coaching modules

that take you from mastering your mindset to effective marketing, sales magnetism, team building, and scalable growth.

Pearls of Wisdom Business Accelerator:

Tailored strategies that have propelled The Diamond Collective into a bastion of entrepreneurial empowerment.
Your

customized SHINE Goals blueprint

, pin-pointing your current stage and outlining actionable steps to ascend to your next level.
Community of Brilliance: The Heartbeat of Success
A curated

virtual community

 that thrives on excellence and inspirational collaboration.
Monthly

CEO Workspace sessions

and exclusive networking events, aligning you with a community of luminaries in the entrepreneurial landscape.
Diamond-Level Coaching: For Leaders, By Leaders
Weekly Coaching

Sessions and

monthly Expert Masterclass

Sessions, delivering real-time, actionable insights.

VIP seats

at our Black PowHER Business Conference and Level-Up Strategic Summit (aka LUSTR Summit), ensuring you're at the vanguard of industry advancements.
PLUS Special Add-Ons...
Quarterly Diamond CEO Brilliance Box

, packed with essentials for peak performance and well-being.
 Access to a

Kickoff Day

to integrate you into the community effortlessly.
BONUS: Million Dollar Strategy Masterclasses
From mastering high-ticket sales with "Gems of High-Value Sales" to elevating your content strategy with the "Sparkling Brilliance Content Planning Workshop," these masterclasses are your fast track to the upper echelons of business leadership and growth: 
Strategic AF™

: Turn Your Dreams into Reality

Launchology: The A-Z of a Succesful Launch

Like a Boss: Develop the Mindset of a Unbreakable Diamond

Author Camp: Comprehensive Guide to Self-publishing.

6 Figure Event Plan: 

Mastering Event Planning for Success

Sparkling Social: Master The Art of Content Planning
This is more than a program. It's an incubator for those ready to achieve brilliance and make a transformative impact on both their lives and the world. Welcome to The Diamond Collective.
"Dr. LaNée Javet is the best business coach."
I started a business mastermind and I thought I would walk in and hit the ground running. However, because I was pivoting from one business to another I found out quickly that I was without clarity and strategy, and to be honest I was struggling. I was excited when I ran across Dr. LaNée Javet. After meeting with her and discussing my vision, shortly after she delivered a strategy package beyond my wildest expectations. Working with her gave me the clarity I needed to create the business I wanted, the one that was jumbled in my head. If you are searching for clarity and need a strategy to bring your vision to life I wholeheartedly recommend Dr. LaNée Javet, she is the best business strategy coach. You will not be disappointed. 
–  DAISY JONES BROWN, Brown Suga Wellness
You could be shining a MILLION times brighter! 
No matter your journey so far...
No matter where you're beginning from, your capacity to radiate financial brilliance knows no bounds.
If you've persevered through the exhausting cycle of excessive work, insufficient earnings, financial pressure, and the relentless struggle for far too long...
If you've navigated the intricate business terrain without a guiding star to light your path...
If you've longed for a supportive community of like-minded entrepreneurs to propel you toward your next level...
The Diamond Collective is your extended entrepreneurial family, a united community, and your catalyst for transformative change.
We welcome those who aspire to transition from a hundredaire to a thousandaire on their journey to becoming a millionaire.
I'M READY TO SHINE
Our Mission is Simple...
To empower and support Black entrepreneurs in achieving economic prosperity, building successful businesses, and changing the narrative around negative stereotypes. 
Results of The Diamond Collective
The 4C Diamond Method
The Diamond Collective is an exclusive program engineered to put black service-based entrepreneurs on track to 6 and 7 figures. With our specialized 4C Diamond Method, we arm you with the tools, actionable strategies, and elite coaching and mentorship you need to achieve crystal-clear clarity, unshakeable confidence, premium client acquisition, and coins to match. We're not just elevating your business; we're elevating the narrative around black entrepreneurship. Are you ready to shine your brightest and set new standards in black business excellence as you embark on your six or seven-figure journey?
When joining The Diamond Collective, you'll see the following results...
Result #1 Clarity
Imagine the peace of mind that comes from having a laser-focused vision for your business. No more second-guessing or scattered efforts; you'll know exactly what you're striving for and how to get there. Your purpose won't just be clear to you—it'll resonate with every action you take, creating a cohesive brand that clients trust.
Result #2 Confidence
You'll walk away with a kind of self-assurance that turns heads—clients, competitors, everyone will notice. Gone will be the days of hesitating before raising your prices or presenting a pitch. You'll own every room you enter, fortified by a deep-seated belief in the value you bring. Your newfound confidence won't just be a façade; it'll be a deeply rooted part of your brand's identity.
Result #3 Clients
You'll experience the joy and financial rewards of attracting clients who appreciate your worth and are eager to invest in your premium services. No more grinding for every lead or settling for less-than-ideal clients just to keep the lights on. You'll have a pipeline of high-value clients who are aligned with your vision and ready to embark on a transformative journey with you.
Result #4 Coins
Financial freedom won't just be a dream—it'll be your daily reality. Imagine having the luxury to invest back into your business, take deserved vacations, or even extend your impact through philanthropy. You won't just be increasing numbers in a bank account; you'll be expanding your realm of possibilities and influence.
Who We Serve...
While our community primarily comprises black women, we wholeheartedly embrace black men entrepreneurs as well. Whether you're a seasoned business owner or just embarking on your entrepreneurial journey, whether your aim is six figures or seven figures, whether you're hustling on the side or fully committed to entrepreneurship – you belong here.
We proudly stand as the exclusive community, driven by a legacy mindset, dedicated to shattering stereotypes, and committed to the Diamond Initiative. It's a place where individuals who share your dreams, experiences, and ambitions unite to uplift each other on the path to success.
At the heart of The Diamond Collective beats the rhythm of Black Excellence, Black Love, and Black Economic Empowerment
I Want in The Collective!
Who is Dr. LaNée Javet & The Diamond Collective
Hey Love! I'm Dr. LaNée Javet,
Listen, you and I are cut from the same cloth. We both started with nada—just a dream and the sheer audacity to think we could turn that dream into something phenomenal. Been there, watched endless YouTube videos, pulled myself up, and pieced together a legacy, all without a roadmap. But what I did have was a fire in my belly, a vision in my mind, and a deep-rooted belief that I was destined for epicness.
So, here I am: an unapologetically black audacious business coach, strategist, author, and speaker, armed with a decade-plus of hard-earned wisdom. What's my mission? It's crystal clear—to empower black entrepreneurs with the no-nonsense, actionable strategies you need to fast-track your way to economic empowerment and freedom. And believe me, my journey to this point was anything but smooth. I've been a high school dropout, a dancer, a single mom, a cancer warrior, and now a triple-degree holder. Every stumble, and every struggle, added another layer to my resilience and intensified my drive to get to this point so I can uplift you.
That's exactly why I created the 4C Diamond Method™ and The Diamond Collective. I'm handing you the blueprint I never had. With Clarity, Confidence, Clients, and Coins in your toolkit, you won't just reach your goals—you'll crush 'em. This ain't just talk; it's a proven formula that's reignited my life and the business of countless go-getters like us.
I'm not just here to help you make it; I'm here to help you own it. Together, we'll navigate the ups and downs, finesse your strategic mind, and make monumental strides in your pursuit of generational wealth.
So, what's the word? Are you ready to elevate your hustle from a simmering spark to a blazing diamond?
If that's a "yes," then it's time we align and let your brilliance light up the universe!
Dr. LaNée Javet
"Dr. LaNée is a life changer!"
Because of LaNée I have written 3 books related to homeschooling African-American children. To this day, I have not, and I am certain I will not ever find another coach like LaNée Javet. LaNée is not just a business coach, she is a life coach too! Not only did she change my life, but she has also indirectly changed the lives of the 3,000+ African-American homeschooling families that are connected to me. My family is living and loving the Mogul life because of LaNée Javet.
–  DR. SHEVA QUINN
"Dr. LaNée, drills down and makes it plain."
LaNée is a mogul professional! Savvy in quite a few areas, LaNée's ability to drill down, make things plain, and then bring them back together again is amazing. I cannot say enough about her professionalism and schedule effectiveness. From a cognitive perspective, LaNée inspired me to take a closer look at certain aspects of my business, how I perform, and to what degree the performance was going to make a difference in the lives of the people I serve. I am truly grateful for LaNée pouring into me from a sincere place of assistance, which has ultimately made me into a much more thorough leader for the 7+ people within my organization.
–  DINO LOVE, Beautiful Men & Women 
"Dr. LaNée, helps you get out of your own way."
She helped me to assess my skills, the gaps and offered tools to help me fill them, such as build my website, how to use e-commerce and productivity apps for entrepreneurs. She helped me to turn my to-do lists into tools of accountability by adding milestones and deadlines as well as mapping out my vision board beyond pretty pictures so that my life goals are well defined and measurable. LaNée inspired me to own being a writer-not to let it wallow away in the background of my life. Since meeting, working with, and following her, I have embarked on writing as a career and not just a hobby! She is a light to help you see your path. She makes you feel that you are not alone in this up-and-down ride of life. LaNée helps you move from where you are to where you want to be.
–  MAHZI KANE, Author 
So let's break this down!
Everything You'll Get In The Diamond Collective:
Last chance love...
Listen, if you've made it to this part of the page, it means you're serious about making a quantum leap in your business. You understand the unprecedented value The Diamond Collective provides, and you're ready to create a new narrative for your business while rewriting the narrative surrounding black entrepreneurship.
The creation of The Diamond Collective wasn't an overnight endeavor. I've invested years of research, hundreds of coaching hours, thousands of dollars in education and conferences, plus let's not forget real-life trial and error to formulate a program that is nothing short of transformative. In essence, The Diamond Collective is a masterful blend of invaluable insights and practical strategies, painstakingly crafted over years—you won't find this type of wisdom anywhere else.
To hire a business strategist, financial advisor, marketing guru, and life coach individually, you're easily looking at a price tag that would make your eyes water. We're talking upwards of $60,000 to $100,000.
The Diamond Collective packages all of this expert guidance into one incredible program for a fraction of that price, at just $11,995. We're offering you a one-stop shop to overhaul your business strategy, supercharge your mindset, attract loyal clients, and bring in consistent, life-changing income.
The TOTAL value of this 12-month program is $77,663
Total Investment For The Diamond Collective Is Only $11,995
Choose the plan that's right for you:
Try for 14 days with our
100% Satisfaction Guarantee 
The Diamond Collective is entirely risk-free and comes with a 14-day money-back guarantee. We strive for 100% client satisfaction and hope that our program extremely transforms your life and business. We also expect that you put your best foot forward and give this program everything you've got, just as we have while creating it. That's why to be eligible for our 14-day Satisfaction Guarantee, you must... continue the terms of your refund policy here.
This program is for you if...
You're aspiring to break the barriers of mediocrity and rewrite the narrative surrounding black businesses.

You're hungry for seven-figure success, regardless of whether you're still striving for six-figures. 

You've tasted a sliver of profit but understand that it takes more than luck and baseline skill to build a sustainable, seven-figure empire.

You lack clarity in your goals, and confidence in your pricing, or struggle with attracting your ideal clients and need a transformative solution.

You want to be a part of a community that echoes the essence of black excellence, empowering each other to shine brighter than we ever could alone.

If these statements resonate with you, then The Diamond Collective isn't just an option—it's your pathway to unparalleled brilliance. Welcome home...
This program is not for you if...
You're looking for a quick fix, a "get-rich-quick" scheme, or shortcuts to success without putting in the work and dedication it takes to build a 6 or 7-figure business.

You're not committed to improving and growing both personally and professionally, and you're resistant to change or new ways of thinking.

You're skeptical about the power of strategic planning, structured guidance, and actionable tools tailored specifically for service-based entrepreneurs.

You're unwilling to invest time, energy, and resources into your own success and would rather stick to your comfort zone, even if it means limiting your potential.

You're not ready to take full responsibility for your own success and are looking for someone else to do the work for you.

If any of these points ring true for you, then The Diamond Collective may not be the best fit. Our mission is to guide driven, committed individuals focused on reaching 6- and 7-figures, empowering them to shine brilliantly in their industry. This program is a transformative investment that requires an unwavering commitment to excellence.
Step 1
Apply for The Diamond Collective
Click the Join button and complete the checkout process. In minutes, you'll get an email with the next steps and your login credentials.
Step 2
Get To Work
This program is not self-paced. Jump in, and join us! Review the coaching material, watch the video training and attend as many LIVE sessions as possible.
Step 3
Achieve Your Goals
My goal is to help you surpass yours. My team and I are here to assist you in every way that we can. We believe in your success and know you will succeed. 
Read What a Few of Our Students Have to Say:
"Dr. LaNée is Amazing!"
Without working with Dr. LaNée, I probably would have lost my mind. When I first joined my business partner, I had a list of goals around how to set the business right side up, but I lacked direction and clarity on where to start. I knew I needed help, and she helped us to stay on track. We were able to upgrade our content and appeal to more customers. Great job! I'm forever grateful for Dr. LaNée Thank you 💕💕💕
–  LOVELY YAA

"Let me tell you why this course is a no-brainer..."
Powder powder chocolate cake topping brownie liquorice carrot cake sugar plum. Wafer marshmallow croissant fruitcake jelly beans fruitcake apple pie pastry. Brownie fruitcake candy croissant tart jelly beans powder carrot cake.
– HOPE BROWN
Choose the plan that's right for you:
Frequently Asked Questions
What will happen after I join?
Is there a refund policy?
How long do I have access to the program?
How is The Diamond Collective different from other programs?
How much time do I need to devote to this program?